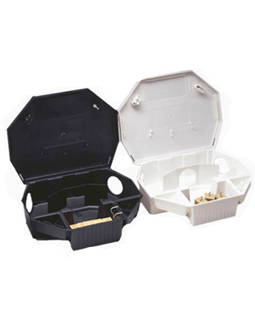 Rat and mouse behavior patterns are very different. In response to university studies conducted in England, our aegis rat bait stations were designed specifically to cater to the feeding habits of rats. Studied conclude that rats prefer to feed in tunnels. so it's no surprise that aegis rat bait station's double-tunnel design improved rodenticide consumption by up to 57% over other rat bait stations on the market. Rats are more likely to enter the tunnels of aegis rat bait stations, which are made of heavy-duty polypropylene.
Features include:
Keeps bait away from children and non-target animals.
Unique patented, double-quartered locking bards makes Aegis tamper resistant.
The clear lid, with a transparent panel in the cover, makes bait monitoring easy and efficient.
Clear lid model allows technicians to quickly see snakes and insects that may be hiding in the station.
Solid lids are available in the cool box (white) or the traditional (black).
All stations contain bait trays making clean-out quick and easy.
One universal key open all Aegis products. No need for special tools or multiple keys.
Rotating hinge, won't crack or break when opened in cold weather.
Vertical and horizontal habiting rods secure bait inside the station and away from moisture.
Use indoors or outdoors in any type of environment (commercial, residential, industrial and agricultural).
Anchoring slot to properly secure station.
Dimensions (in inches): length 13 9/16, Width: 10 5/8 (including hinge).Height (lid closed): 3 ½, Height (lid open): 3 1/8.