THERMAL FOGGER – AR35 THERMAL FOGGER – AR9 STAILESS STILL SOLUTION & PETROL TANK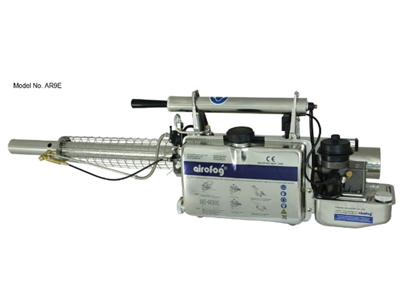 Airofog thermal foggers use the "pulls jet principle" of igniting fuel through a tuned resonator tube, which allows for continuous engine operation without any moving parts. Here the exhaust gasses are mixed with a diluent containing the fogging material to create a dense fog of finely atomized particles, typically ranging between 3-10um in sizes. Oil-based dialects are typically used for fogging insecticides targeting flying insects, stored products pests, insect larvae on water surface, and also in the application of biocides and disinfectants in both indoor and outdoor environment.
The professional design makes the exit temperature at the point of injection only between 40-600c,with an exposure interval of under 6 milliseconds to ensure even heat sensitive material, such as biological products like bacillus thuringiensis israelensis (bti) or sphericus (bts) can be applied.

This range of Airofog thermal foggers is independently evaluated as compliant with EC council directive 2004/108/EC electromagnetic compatibility.
ar35 ar9e, ae35e and ae9e are certified by internationally recognized test center to be fully compliant with all requirements of the who equipment for vector control specification guidelines. who/htm/ntd/whopes/2010.9 revised edition 2010.